Summer is here (!!!) and that means you're probably getting ready to think about what you need to bring to Schlitterbahn when you come visit. If you haven't started thinking about what you should bring, don't worry! Here are a couple suggestions on things you may need:
First of all, the obvious: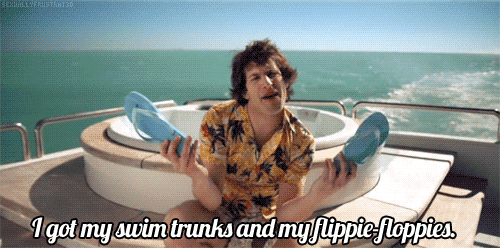 I cannot stress enough that you need to bring flippie floppies (or literally any other kind of shoe) when you come to Schlitterbahn this Summer. Even if you don't think you need to wear shoes while you're at the waterpark, think again! Schlitterbahn covers over 70 acres in New Braunfels, which means at some point you are going to have to get out of the water and walk on the concrete between rides. In 100

°

weather that gets pretty hot! Avoid doing the awkward hopping from one foot to another dance and bring shoes! You'll thank me later…

Bring your sunglasses, but CAUTION: don't lose your sunglasses. I cannot tell you how many times I've found a pair of sunglasses at the bottom of the Kristal River, and not just the plastic souvenir ones either. Make sure you're protecting your eyes from the glare of the water but if you have a prescription pair or an expensive pair you want to show off, invest in a sunglasses strap to keep them more secure around your neck!

Bring food! Schlitterbahn New Braunfels lets you bring in your picnic baskets and coolers! However, be aware that we don't allow glass, alcohol or open containers into the park, and we will check your coolers at the admissions gate.

Suggestions on what to bring: Fruit (refreshing and healthy), pretzels (no mess! Easy to eat!), sandwiches (because sometimes you need something a little more filling), water bottles (HYDRATE!!!!),

Trail Mix (who doesn't love a good mix of salty and sweet?).

Things to maybe leave at home: hot sauce (in my bag, swag? You might be surrounded by water, but don't ruin your day by drenching your food in too much hot sauce), dairy products (don't go overboard on dairy filled foods if you're going to be out in the heat all day, the two don't mix well), leftover casserole from dinner last night (when you finally get out of the water to eat lunch, you're not going to want to have to scoop out a bunch of foods from Tupperware you packed. Pick simple premade options instead!).

Bring a Book, a real-life, former-tree Book! I know the world has transitioned to a paperless society where we press a button on a glass screen and suddenly hundreds of pages of the latest Game of Thrones novel is magically zapped to our fingertips, but at a waterpark, where water is all around you and not super friendly to your tablets and digital devices, we suggest that you go old-school and lay out with a traditional book! If you get tired of going down waterslides at some point (disclaimer: this may not happen to you), find one of our pool chairs and lay down with your newest literary obsession!

                                     
Bring a winning attitude! The only downside to waterparks is just how many other people enjoy waterparks. For you, that means lines and long wait times to ride your favorite Bahn slides. If you come visit us toward the beginning of the summer, this may not totally apply to you (pro tip! Our peak season is the beginning of July till the second week of August), but odds are, you'll have to stand in line at some point (see tip #3 on this post for line optimization). If you've brought your winning personality with you, you're time in line will go by quicker than it took you to pack your beach bag that morning (another pro tip! Consider getting a Blast Pass to reserve a ride time!)

Bring your sunscreen! Schlitterbahn is a waterpark, and while you'll be cooling off in the water a lot of the time that you're with us, that doesn't make you immune to the sun's rays. Sun Burn creeps up on you without you even noticing most of the time, so make sure you bring enough SPF for the entire group (we recommend at least an SPF 30). REAPPLY! While most sun block is waterproof, that doesn't mean that it's going to last from 10AM until the park closes. For some more ways to avoid a sunburn, including a debate on suncream vs. sunspray, check out these tips!
 Towels! Schlitterbahn does not have towels for park guests to use, so if you like to have a towel to dry off with, make sure that you bring some from home. If you prefer to air dry, that's cool too! It does get really hot in the Summers so you definitely won't be soaking wet for long. Not only can you use the towels to dry yourself off, but you can also use them to mark your territory! There are plenty of picnic tables and pool chairs around our parks for you to claim as your home base, but many of our regulars can probably tell you that there are some ~prime~ locations (basically they're in more of the shaded area). The easiest way to let other people know not to take your spot is to lay out your stuff – spread your towels out over the area you need, and keep your bag/cooler/etc. on top!
$$$$! You're going to want to bring your wallet with you when you come to Schlitterbahn! Whether it's because you find that one piece of Bahn Swag you just have to take home with you, or it's because you just absolutely need that Frito Pie in the middle of the afternoon, money is a necessary item when it comes to visiting the waterpark! Keep in mind – you'll need money when it comes to renting lockers! If you're worried about your cash getting wet (nobody likes soaked dollars, ew) there are Water Wallets available that keep your cards and cash dry when you're enjoying the pools and slides!
When you're getting ready to make your trip to the Bahn this Summer, make sure you pack your essential items in your beach bag so that you don't end up upset that you forgot something when you finally get here. Also! Don't forget that Schlitterbahn allows you to bring picnics and coolers into the park, as long as you don't have any open food or drinks, no alcohol and no glass!