If you're stopping by our New Braunfels Schlitterbahn Waterpark this Easter break, or are just planning ahead for your Summer Vacation, and are already dreading the moment someone in your group says "Where should we go to dinner?" and the awkward silence or "I don't care" that follows, here's a handy list of some of the most unique places to visit while in our lovely town.
Regardless of whether you're looking for the best sandwich shops near me now because you want to try an Italian Sub, or you want to go somewhere that has a variety of selection, you are bound to find somewhere that tingles your tastebuds. So, go on! What are you waiting for?
American
For those of you that are looking for a little bit of everything, here are a couple classic NB spots to consider:
Pat's Place is always a hopping spot for people visiting the waterpark or coming off the Comal River. Its location is prime, and is within walking distance if you're staying in our Treehaus Luxury Suites or Condos by Surfenburg. They have a little bit of food of all types, but are mostly known for their sandwiches, burgers, and enchiladas. You'll even get your drink served to you in a little mason jar! Also, if you're not really feeling like going out, but don't feel like making food, you can call ahead and grab your Take-out without the stress of waiting for a table. They have a couple back rooms, so if you have a large party, they should be able to pull enough tables together for you, you just might have to wait a bit! Fair warning, the parking is limited so you might end up having to find a spot on the street.
The Gristmill is an iconic New Braunfels restaurant and is definitely a must-stop for anyone who hasn't visited before. Located in Gruene, the main building used to be an old cotton gin, but the restaurant has been there since 1977! The back deck overlooks the Guadalupe River and the entire place is very rustic in appearance, making a great environment to enjoy a meal. Their menu features steaks, chicken, seafood, sandwiches and salads, and a personal favorite is their appetizer options (get their queso or spinach & artichoke dip!!!) If ambiance is important to you, The Gristmill is definitely a winner. The wait can be long, though, so be prepared to wait or get there early to avoid the most crowds! The restaurant is located right behind Gruene Hall, so if the Gristmill doesn't have their own live music going you might be able to hear what's happening next door!
---
Now let's say you want Seafood:
Clear Springs Restaurant (menu I map)
There are a couple locations for Clear Springs Restaurants around Texas, but the one we have here on the outskirts of New Braunfels is the only one actually in Clear Springs, Texas. Clear Springs is known for their catfish, but they also have some non-seafood options for those that don't quite have their sea legs yet. They're also going to try and get you to order some of their World Famous Onion Rings and I 100% think you should. It's about a 15-minute drive out of town (map), but it's worth it if you're looking for a good 'ole Texas meal. Again, the wait here can get kind of long, so make sure your group plans ahead to avoid getting hangry!
The Reel in New Braunfels is fairly new, so if you've visited us before and never heard of it, that's why. As far as food goes, The Reel is a fairly standard Seafood House, but the restaurant here in town is the local group's second location so it's likely you've never had the flavors that they conjure up here (Personally, I'm a fan of their pastas). They also have non-seafood options for people who aren't the biggest fish fans! The Reel is located in a shopping strip, so it's pretty easy to find parking, and they have indoor and outdoor seating, so wait times are usually pretty reasonable.
If you're looking for a bit of a classier dining experience, go to McAdoo's! It's downtown New Braunfels, so you can explore the area after your meal depending on what time it is. Fun Fact: The building that McAdoo's occupies used to be the Post Office in New Braunfels back in the early 1900s, and a lot of the equipment is hidden around the spot as decoration. They have a lovely covered outdoor patio and also have Brunch on the Weekends, so if you're feeling like you need a mimosa this is the spot to hit! I said it was a little classier and that also means a little pricier, so keep that in mind when you're deciding.
---
Not a Seafood fan? Let's do Italian!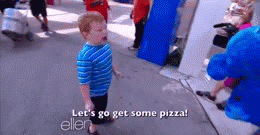 Gennaro's is probably our largest Italian restaurant in town. They have a little of every kind of Italian cuisine on their menu and feature their wood-fired Neapolitan pizzas. Before your meal, they'll bring your table a basket of garlic knots and tbh I could eat those by themselves and call it a day. The food here will fill you up so I'd recommend stopping by on a day where you're especially hungry. The wait time here can be a turn-off, so make sure you get there early or are in the mindset to wait a bit!
Kind of off the beaten path in Gruene, Infernos is home to the Trinidad Scorpion Pepper Sausage which I can say from experience, is very, very hot. They have prepared pizza combos, or make-your-own wood fired pizzas and strombolis, then a couple sandwich and salad options. On weekends they have live music on their outdoor patio.
Underground Pizza (menu I map)
Another fun restaurant in an old New Braunfels building is Underground Pizza, and you'll never guess – it's underground! It's a typical spread of menu items including subs and salads, but they do have a lot of signature pizza options to choose from, including a pizza with Mac & Cheese on top. They recently started selling beer and wine as well, so if you're looking to start a night out on the town (downtown's a block away) consider getting a bite to eat here!
---
If you're feeling like Tex-Mex let's start with:
The Cantina is also in Gruene, and is next door to the Gristmill on the river so if you sit outside on the patio you'll have an excellent view! Their menu is limited, but to be quite honest, people spend the most money on margaritas here (it's been voted best marg 4 years in a row – try it, you'll like it, trust me). Their burgers are very good and I've heard their fish tacos are also a must-try! The chips and salsa here are also winners!
Las Fontanas (menu I map)
This is one of my family's go-to Mexican restaurants because we're big fans of the street tacos they have, of all varieties. (I'm personally a mixed beef and chicken fan). The fajitas are another family fave but that's only when we're feeling really hungry. Be careful that you don't fill up on chips and salsa while you're waiting for your meal because the salsa they give is addicting; not too hot, and not too mild.
Disclaimer: This restaurant only opened a couple weeks ago, so I haven't actually stopped by. It's owned by the same guy who started The Reel (see above) so it should have good, tasty food. Their menu looks like it has a little bit of everything you'd want in a Mexican restaurant and they call themselves a scratch-kitchen, so I'd assume that means everything is made to order fresh! Go check it out, see if you like it, then let us know!
---
Now you're thinking, "New Braunfels is a German town, let's get German food"
Again, it's recently reopened so I haven't been. I'm also not 100% sure what constitutes authentic German food, but if you've ever wanted to try schnitzel, now's your chance! There's a lot of sausage options and sauerkraut is also available so it's a pretty good bet that you'll be satisfied you tried German food! A plus about Krause's: they have a giant biergarten! If you're confused as to what that is, it just means there's a lot of beer, wine and cider!
Okay this place is consistently rated very high on lists of NB restaurants, but it's also kind of hard to find because it's pushed back from the main road downtown. Again, I haven't personally been here, but looking at the menu makes it seem like it's a pretty authentic German experience. There's a whole section for Schnitzels! There are also a bunch of other options, some of them even in German. (Schweinebraten! I don't know what that is but it sounds authentic!) Their website says reservations are highly recommended, so plan ahead!
---
Okay you just want a sandwich or to stop at a cute café?
Cravings is home to the Envy and let me tell you, once you've tasted it, you'll be envious of the people who live here and can get it whenever they want. I won't try to describe what's on it, because 1) I don't know and 2) it's actually kept very secretive. Their sandwich buns are homemade (AKA delicious) and every meal is served with homemade firecrakers, which are like spicy Saltines. If you're a more traditionalist when it comes to your sandwich preferences, they have plenty of options for you too, or if you prefer a salad then you'll also be satisfied. They're only open for breakfast and lunch, so make sure you check the hours before you venture out!
Another local treasure! There are two locations in town, but the quintessential café would be the one downtown around the Plaza. Stop by for a breakfast pastry and coffee, or grab yourself a sandwich or salad for lunch, and then sit outside and watch the people walking around downtown.
---
If you aren't really looking for someplace that's unique to New Braunfels, there's also a ton of chain restaurants in town for you to choose from. The Town Center at Creekside has a lot of options, and if you drive down IH-35 there's a lot of places off the highway to choose from! If you're looking for a specific cuisine that's not mentioned here, make sure to ask the concierge at the Resort Office! They are a fountain of information and are here to help!